Max weer snel!!!
Warning: Declaration of C_DataMapper_Driver_Base::define($object_name, $context = false) should be compatible with C_Component::define($context = false) in /customers/1/b/b/buitenhuisracing.com/httpd.www/wp-content/plugins/nextgen-gallery/products/photocrati_nextgen/modules/datamapper/class.datamapper_driver_base.php on line 741
Vandaag reed Max weer zijn eerste wedstrijd na zijn pols gekneusd te hebben. Er werd samen met de 85cc (laag en hoog) gereden en het was erg druk.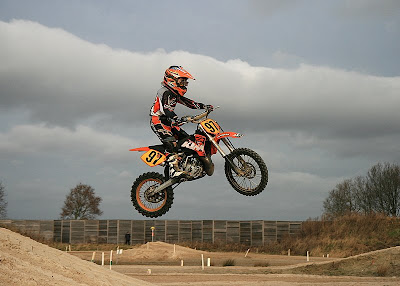 De eerste manche stond Max op de tweede startrij en werd tijdens de start opgesloten waardoor hij heel veel slingerende 85's voor zich had. Toch wist Max nog op een prima 10e plaats totaal en 2e plaats bij de 65cc´s te eindigen.
De twee manche stond Max natuurlijk op de eerste rij en ja hoor. Samen met Rene de Jong kopstart! Samen met Rene reed Max door het veld maar moest na drie ronden Rene toch laten gaan. Zo werd Rene derde totaal (na Luca Nijenhuis en Rick Folkers) en Max 5e totaal! Super. Totaal 2e van de dag bij de 65cc.